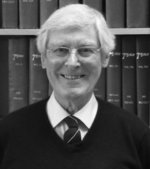 Photo Archivist
Cosmo Davies
Tel: 01608 644777 Ext 7
Cosmo was born in Guildford shortly before WO Bentley ceased production of his cars at Cricklewood. Most of his working life, from 1952 to 1996, was spent in New Zealand where he owned 20's American tourers, 30's Rileys and a Morgan 3-wheeler.
Motorsport involvement has included circuit commentating at national and international motorcycle and car meetings, including NZ Grands Prix. He also spent seven years with NZ Broadcasting Corp, on radio and TV, where his interviewees included Moss, McLaren, Brabham, Amon, Bandini, Hill, Stewart and Clarke.
His accumulated knowledge is now invaluable in his role as a photo archivist.