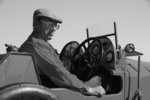 Julian Ghosh's first interest in vintage cars by way of Messers Usher, Wheatley and Morgan as a ten year old but with a definite bias towards Bentleys, in which he was collected from school at exeat weekends, and also driven to Madresfield, Prescott and Silverstone.

He just scraped a degree in Mechanical Engineering, due to the 50th anniversary of the Le Mans 24 hour race beckoning his presence the week before finals, which of necessity was attended by Messers Michael Elsom (later Bulletin Editor), Paul Morgan (later Ilmor racing engines) and Robert Simpson (Aviator) in his 4 and a half litre Bentley.

Julian started racing his first Bentley in 1973 with direct encouragement from Hugh Harben, Harvey Hine and Peter Morley.

Subsequent exposure to the Vauxhall 30-98 by John Rowley saw Julian purchase 30-98 'Blue Nick' on his 26th birthday and the following year won The Lycett Memorial for the first time with it. This resulted in friendship with Roger Collings allowing much time at the wheel of the 60 HP Mercedes and shortened Speed Six.

Elected to the VSCC Committee in the mid 90s and elected Club President in 1999, Julian's crusade was to ensure that the Club was hale and hearty for the next twenty years. This encompassed raising the profile of the Club and many of our traditional features, such as Prescott and Silverstone. Julian instigated our PR function, The Marshals' Guild and the idea of high profile events such as the SeeRed events at Donington Park working with partners such as Audi AG, Bentley, Daimler Benz AG, and the Scuderia Ferrari, with a view to exposing our Club to a fresh and younger audience.

Julian's eclectic stable of cars include at the Vauxhall Villiers, various 30-98s, Bentleys, Sunbeam TT and daily drive Ford Fiesta. Julian if often seen campaigning his Jaguar C Type in VSCC 1950s Sports Racing Car events.