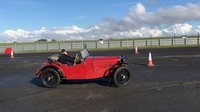 Thursday 21 September 2017
Final AutoSolo of 2017 Successful at Snetterton
AutoSolos are always a popular addition to the VSCC sporting calendar, and this year's Snetterton AutoSolo was no exception.


On Sunday morning the sun shone on the competitors for the last Autosolo of the year. Competing were a mix of Norfolk locals and Autosolo /Driving Test regulars.

The range of cars from a Ralph Lance in his Nippy Austin Seven, James Holland in his Lagonda, Stephen Lee in his Talbot 90, enjoyed the challenging tests set up by Martin Jelley, utilising the paddock of the sprint from the day before.

At the sharp end of the competition it was a close run between Jon Fleming and Robin Gale with the former keeping a clean sheet to gain the best score of the day in his 1928 Austin Ulster Trials.