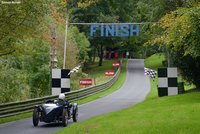 Tuesday 26 September 2017
A Great End to the 2017 Speed Championship at Prescott
Saturday 23rd September saw the Vintage Sports-Car Club return to one of the Club's favourite venues, Prescott Speed Hill Climb, for the superb final round of this year's Speed Championship.

Following the popularity of the Long Course at Prescott amongst spectators and drivers alike, the Long Course was run as a standalone event for the first time this year. The event attracted some 145 competitors and numerous Pre-war enthusiasts who enjoyed the Pre-war display cars as well as the exciting action in the paddock and on the hill.

Despite some drizzle in the morning, the sun emerged during the lunch break and the rest of the day was warm and sunny, with many spectators flocking to Ettore's Field to view the historic cars take on the first hairpin of the course.

In August we saw Nick Topliss and Ian Baxter draw in a dead heat tie for Fastest Time of the Day with a speedy 41.44 seconds at the Prescott Short Course Hill Climb. Following the exciting draw in August, it was Topliss who ultimately triumphed at the Prescott Long Course with Fastest Time of the Day with a rapid 49.42 seconds in B.H. Fidler's 1938 ERA R4D.

The Fastest Vintage of the Day was awarded to Dr Robin Tuluie who achieved 52.04 seconds in his 1929 Riley Menasco Pirate. James Crabb won Fastest Young Driver with a time of 53.69 seconds in his father's 1937 ERA R12C.

The awards of the day were presented outside of the Clubhouse by the event's Commentator Nick Upton and Club President Geoff Smith. The pair drew the Speed Championship to a close with some good humour and articulate speeches.

A very enjoyable event was had by all with many VSCC Members remarking on the great social aspect of the day, and how it was reminiscent of the original Prescott Weekend.

At the close of the 2017 Speed Championship, we look forward to the Trials season and the Club's return to Prescott for the Cotswold Trial on Saturday 18th November.