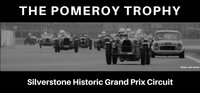 Friday 13 October 2017
Entries now open for The Pomeroy Trophy
The Vintage Sports Car Club is delighted to be returning to Silverstone for the 66th running of the Pomeroy Memorial Trophy Meeting (The Pom) on Saturday 24th February 2018.

The Pom is unique in global motorsport as it allows sports and saloon cars of all ages to compete against each other in a quest to find the Best Touring Motor Car as defined by the using the historic and fiendishly complicated "formula".

A full day of entertaining motoring sport will ensue including a combination of acceleration, breaking and handling tests in the morning followed by a series of timed "High Speed Trials" on the Historic Grand Prix Circuit during the afternoon.

The Pom is such a special event allowing Members the chance to compete in something other than their "standard" Club car.

Entries open on 13th October and will close two weeks before the event.

In 2017 the Pom's entry reached a breath taking 135 cars and the Club is working hard to exceed that total in 2018.

A new innovation for 2018 will be the running of a 'Sports Libre' class and so owners of cars previously excluded from one of the VSCC's flag ship events now have the opportunity to take part in the fun.

David Wylie in his BMW 2002 was 2017's deserving, and noisy, winner. Will he return to defend his title?