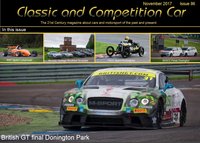 Monday 13 November 2017
Classic and Competition Car - November 2017
Novembers issue of Classic and Competition Car is now available to download, which includes a report from the VSCC Autumn Sprint at Rockingham National Circuit.
The November issue also includes the trilling conclusion to the British GT series from Donington Park, a report from RallyDay at Castle Combe, the Marches Batho Rally and finally a few unusual cars including the Tornado Talisman, Austin Headly Jamaican, Innocneti C Coupe and the Chrysler Valiant from Australia.
Visit
www.classicandcompetitioncar.com
You can also now follow us on Twitter using @classcompcar or view our Facebook page Classic and Competition Car.