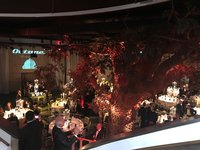 Friday 17 November 2017
VSCC Awarded Club of the Year at Octane Awards 2017
The VSCC were delighted to be crowned Club of the Year last night at the prestigious 2017 Octane Awards.

Winners of the award at the International Historic Motoring Awards in 2014, the Club is honoured to be recognised again this year, following an exceptionally busy season of motorsport, with 54 events at over 35 locations in the UK and Europe taking place between October 2016 to September 2017.

Not only was the Club recognised for its successful event calendar, but also the new VSCC Safety First initiative launched earlier this year to improve safety through better self-regulation and a clearer focus on the preparation of cars and fitness to compete of competitors.

The Club's Race Championship and its recent rebrand to Formula Vintage has been injected new life into VSCC racing activities attracting a wider audience to the exciting world of historic motorsport.

Being one of the longest standing and largest historic motoring Clubs in the world, the VSCC are proud to be able to offer Members the opportunity to enjoy Vintage cars in a safe and exciting environment and hope to continue to strive for excellence in the historic motoring community.

We would like to thank the panellists for selecting the VSCC as Club of the Year and also Octane who hosted us at last night's fantastic event at the Underglobe in London. Recognition of our collective efforts is just rewards for the hardworking permanent staff who are ably supported by our Officials and Volunteers who help make it all possible and so worthwhile. We would also like to thank all the Club Members without whom our great Club would not exist and finally the President and Directors of the VSCC who continue to support our activities.