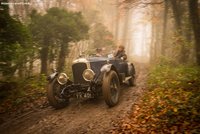 Wednesday 22 November 2017
Cotswold Trial Results Available Now!
A full entry of 110 Vintage and Pre-War cars took to the Gloucestershire countryside on Saturday 18th November for the Vintage Sports-Car Club's Cotswold Trial.
Although only a week after the Lakeland Trial this did not put off the capacity entry for the day's activities and four reserves were even keenly awaiting their chance to participate when signing on opened at The Bugatti Owner's Club HQ at Prescott Hill.
Fourteen observed sections were tackled in very wet and muddy conditions, and with the "driver's choice" of a stop and restart on Rosemary's Revenger bringing a bonus 10 points reward for a completed climb, drivers were extra keen to walk the hill before making their decision. Couple this with a full spectator programme from noon onwards at Prescott where crowds and drivers alike were blessed with a challenging and exciting finale to the day with four hills to ascend.
Amongst thirty nine class award winners were the following recipients of the named trophies:-
The Harold Powell Cup to the overall winner: Wiliam McVicker
The Inderwick Cup to the best Vintage Car: Stephen Fathers
The Cotswold Cup to the best Class 0 Car: George Gosling
The DHO Spirit of the Cotswold Trial Award: Annie Scaldwell
To see the full results please click
here
.
The Vintage Sports-Car Club will be running its Winter Driving Tests at Bicester Heritage on Saturday 2nd December to bring to a close the 2017 competition calendar. A full entry is expected for the Driving Tests and Club spectators will be warmly welcomed. For more information please click
here
.