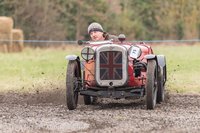 Wednesday 06 December 2017
Drawing The Year To A Close With The Winter Driving Tests
On Saturday 2 December, 75 eager drivers arrived at Bicester Heritage to take part in the Winter Driving Tests, marking the final Club event of the year. Organised this year by Mark Elder and a local team of volunteers, the tricky series of tests proved a new challenge for the competing drivers and their cars.


Despite some damp conditions, the event saw a good number of spectators turn out to socialise and enjoy the relaxed atmosphere.

Award winners included Chloe Walker in a 1912 Hispano-Suiza Alfonso, Harry Hoskins in a 1929 Morris Cowley, Edmund Burgess in a 1924 Brescia Bugatti, and Tony Stephens in a 1925 Trojan Utility. The clear winner of the day was Charlie Martin in a 1931/35 Riley Special.

Alongside the Tests, a group of doctors and volunteers held Race Competition Medicals throughout the morning, with almost £7000 being raised for charity. Many thanks to all those that kindly donated, the dedicated doctors and their team, and Blue Diamond Services for their assistance with the new mobility test.

Following the Winter Driving Tests, the annual Race and Speed Forum was held with its usual lively debate as the 2017 season was discussed. The unveiling of the Race and Speed calendar for 2018 was well-received, including highlights such as a return to Goodwood.