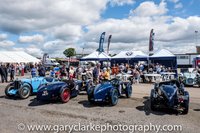 Monday 09 April 2018
Cakes Required for Formula Vintage - Round 1 - Silverstone!
After an exciting 2017 season of Racing and cake eating, you are invited once again to donate cakes to the Drivers Club at the Club Rce Meetings throughout the year.
The Drivers Club offers light refreshment for Competitors at all Formula Vintage events. Last year the Club was 100% self-sufficient in cake by the end of the season!
To donate a cake, simply bake and bring along to the Drivers Club at the following events:
Formula Vintage - Round 1 - Silverstone 21/22 April
Formula Vintage - Round 2 - Oulton Park 19 May
Formula Vintage - Round 3 - Cadwell Park 22 July 2018
Formula Vintage - Round 4 - Mallory Park - 11 August
Formula Vintage - Round 5 - Snetterton 23 September 2018