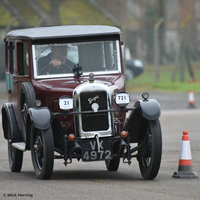 Friday 30 November 2018
Winter Driving Tests All Set!
The Vintage Sports-Car Club sign off 2018 with the Winter Driving Tests at Bicester Heritage
Hangar 113 is the focus for the event with the signing on, Scrutineering, refreshments and traders all under one roof.

66 competitors will face 10 challenging tests all created by experienced Clerk of the Course Mark Elder. Vintage competitors in Class 3 will have the added incentive of winning, new for this year, the Malcolm Elder Trophy which will be awarded to the Best Standard Vintage Car. Tests will start at 9.00hrs with lunch available from 13.00hrs, entry is free to spectators. Many of the businesses at Bicester Heritage will be open for members and spectators to have a look around plus The Club's ever popular Christmas Cards will be on sale for members to purchase.

The VSCC are grateful to our doctrine of doctors who will, once again, be providing medicals for our 2019 Race Competitors with proceeds going to selected charities.

The VSCC Race and Speed forum is being held from 14.00hrs

Bicester Heritage has a strict No Dogs policy as it is an active airfield.