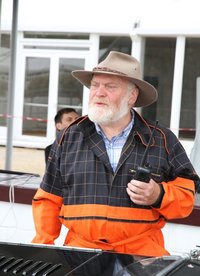 Monday 11 February 2019
Don Grose Trophy Winner
The DON GROSE Trophy is awarded to the person with the highest annual score accumulated for marshalling at Trials, Rallies and Driving Tests. It is the wish of Thelma that this trophy may be won only once by any Marshal. Each event marshalled attracts 25 points.



As with the previous trophy, this trophy can only be won once by any individual, therefore Hugh Girvan, who scored 250 points collects the award for third place in the standings. Hugh has previously won this trophy outright in 2008 and is a regular Marshal on Trials, Rallies and Driving Tests.

2nd place this year goes to Martin Jelley, scoring 275 points, who previously won this award in 2013. Martin is Clerk of the Course for a number of VSCC AutoSolos and Rallies throughout the year and is also regularly called upon to be the Safety Officer at Club Trials.

Overall 1st place this year goes to Brian Groves, a previous winner in 2009 scoring a very impressive 325 points. Brian continues to actively marshals across many different disciplines.

This year's winner of the Don Grose Trophy epitomises Marshalling within the VSCC and has been a strong supporter of the Club for so many years, primarily on Race and Speed Events, but 2018 saw him step over to the non-speed side of things as well. This year's winner of the DON GROSE Trophy is Jim Wood.