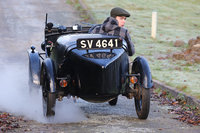 Monday 10 December 2012
Winter Driving Tests Final Results Live
Final Results for the VSCC Winter Driving Tests 2012 are available to view online . . . .
The Winter Driving Tests took place on Saturday 1 December at
St George's
Barracks, Bicester and results are now available for members to download. Log on with your Membership Number and Pin, click on the event listing within the Events section then click on the Results tab to download the PDF.