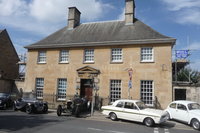 Wednesday 09 October 2013
Job Opportunity at the VSCC - Membership Secretary
Closing Date for applications at end of business this Friday 11 October

We are looking for a full time Membership Secretary to join a small and dedicated team in one of the world's leading sporting motor clubs, providing top class motor sport meetings and social events throughout the UK.
Membership Secretary
Looking after the membership needs of in excess of 7,000 members, some of them overseas, the role is a multi-functional post supporting the Club Secretary in the management and execution of VSCC Membership Services. Based at our offices in Chipping Norton, Oxfordshire, the job primarily involves maximizing the power of the membership database, collecting subscriptions, integration of Membership Services within the Club's website and on-line and social media, and developing and executing Recruitment & Retention and Membership Services strategies and reports. This will include communication to, and with, members via publications, correspondence, telephone, emails, SMS etc and attendance at some weekend meetings to recruit and liaise with members. Compiling membership content for magazines, event programmes, together with assembling membership lists for specific interest groups will all form part of the routine.
The successful candidate will be committed to a career in membership services and have a passion for motor sport. A willingness to work as part of a team, sometimes at weekends, is essential as are high quality communication and interpersonal skills. The position requires highly developed IT skills with the successful applicant taking a leading role in the Club's IT and data management systems.
Competitive salary and benefits package available for the right individual.
To apply please send a letter of introduction and CV by post or email to
The Club Secretary
Mike Stripe
VSCC
The Old Post Office
West Street,
Chipping Norton, Oxon
OX7 5EL
Email:
mike.stripe@vscc.co.uk
The closing date for applications is Friday 11 October 2013.