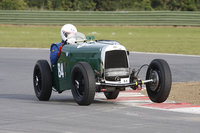 Wednesday 25 September 2013
Will it be Another Sweet Success in the 'Spero' for Mahany at Snetterton?
The name W.J Mahany dominates the roll call of Spero Trophy winners since 2005, as his beautifully presented 1938 HRG Le Mans has powered him to eight consecutive victories in this prestigious race for smaller capacity cars. One of the younger racers in the Club, Will has to juggle his passion for racing with a demanding career overseas and plans his annual leave around VSCC events proving his devotion to his sport.
The
Spero Trophy
is run alongside the
Voiturette Trophy
and is one of the more popular prestigious races for younger racers as it recognises 1100cc and 750cc capacity cars and thus attracts a grid populated with Austin 7s, MGs, Lagonda Rapiers and smaller capacity Rileys. Most of the cars are identical in specification to cars that would have raced at Brooklands, Le Mans and Montlhery in period.
Although these cars have smaller engines, they are nimble and therefore incredibly fast; Mahany averaged 67 mph laps last year and he'll be looking to match this performance as he gives his all for a ninth consecutive victory.
We welcome another overseas competitor, Kieran White who returns his unique Riley engined TRS to VSCC competition for the first time since 2010 from his Irish base.
The Spero and Voiturette Trophy
is Race 6 in a 12 Race programme of Vintage and Historic Racing. Practice gets underway at 9.00am with the first race at 1.00pm. There is a parking area for Classic and Vintage Cars and there are lots of off-track activities too including Vintage Steam Bus rides, jazz band and a cream tea tent. Tickets cost £17 per person on the day and children aged 13 and under go free.
Snetterton is 10 miles north-east of Thetford on the A11 from London to Norwich. Coming from the south, leave the M11 at junction 9 and follow the A11. From the north or west, use the M11/A11 and join the A11 after Newmarket.
For more details
click here
or visit
www.snetterton.co.uk
Photo: Donald Stringer