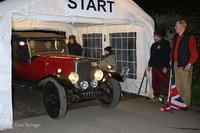 Friday 17 January 2014
Measham Rally to kick off the Vintage Sports-Car Club 80th Anniversary Year this weekend
The Vintage Sports-Car Club's 80th Anniversary Year kicks off this weekend, 18-19 January, with The Measham Rally, the Club's revered overnight Navigational event, this year based near Darlington...
The event will start and finish at the newly re-vamped Scotch Corner Hotel. The venue has a long association with motorsport as a start and finish venue, a control on the early rounds of the British RAC Rally and a feature on the Rallye Monte-Carlo when en route from Glasgow.

The route will cover 180 miles in North Yorkshire, all of which will be tarmac, with the exception of in excess of 20 miles on Ministry Of Defence training grounds near Catterick, which will include the original Catterick Hill Climb course as used by Darlington Motor Club in the 1950s and 60s as part of the route.

A seminal VSCC event, atop every member's 'must-do' list, it was first run in 1950 and remains one of the most important events in the Club's calendar. An entry of almost 50 Pre-war cars will take on the challenge this year in the hope of earning the enviable accolade of completing the Measham, the oldest being Richard Marsh's 1923 Vauxhall 30-98.

As winners of the Measham Trophy the last 3 years, the father/son team of John and James Potter will likely be amongst the favourites, as they return to defend their crown in their Alvis 12/50. However, they are sure to be pushed all the way by the likes of the Club's 2013 Rally champions Ray Edge and Cath Woodman, not in Ray's familiar Bentley saloon but in the Alvis Silver Eagle – thereby relinquishing the Richard Dames-Longworth Trophy for PVT cars this year – and the Gareth Frank team, who are never far from the top of the standings in the Lea-Francis W Type.

A pair of crews will compete for the Jeddere-Fisher Trophy, including current holders Richard Prest and John Warburton, who will hope the 1927 Gwynne 10 Tourer will be able to see off the challenge of one of the event's most experienced crews in former Club President Barry Clarke and navigator David Filsell in their Austin 7 Saloon. Half a dozen crews comprise the Novice Class this year, amongst them now retired Club Membership Secretary Steve Allen in his Bentley 4¼ Litre whilst a similar number of newcomers try their hand in our popular Champagne Class.

We wish all crews the best of luck for what will undoubtedly be a most enjoyable event and also the organising team and their band of volunteer marshals, who will be out running the controls along the route throughout the night – the biggest ovation undoubtedly should go to them!