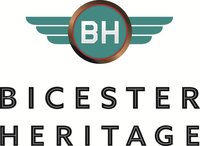 Wednesday 29 January 2014
Bicester Heritage on board for VSCC 80th Anniversary Celebrations
We are delighted to announce Bicester Heritage, the UK's first and only business campus dedicated to historic motoring and aviation, is supporting the VSCC 80th Anniversary by sponsoring the commemorative rally plates which will be affixed to each Pre-war car taking part in the events during the celebrations.
A series of events, based at the East of England Showground, Peterborough, is taking place from 4 – 9 August 2014 to celebrate the founding of our historic motoring club. Throughout the week, members of the Club will take part in a range of events such as touring assemblies, versatility trials and driving tests at the showground and in the surrounding area, with all cars being allocated a dedicated number for the celebrations, to be displayed on special rally plates, provided by Bicester Heritage.
Bicester Heritage is fast establishing itself as the UK's national business park dedicated to historic motoring and aviation and, in the process, regenerating the former RAF Bicester station. The venue brings together the UK's cottage industry of specialists on this important and atmospheric campus in order to promote not just the preservation but, specifically, the use of vintage aeroplanes and motorcars. In doing so it brings a modern, sympathetic use to what is considered to be the UK's most important Bomber Command site and a national heritage asset. Comprising a former RAF Technical Site of more than 50 buildings (of which 19 are Grade II listed) totalling over 350,000 square feet, and a substantial operating grass airfield. It is situated on 348 acres next to Bicester, Oxfordshire's fastest growing town. Further details of Bicester Heritage can be found here
bicesterheritage.co.uk
Bicester Heritage's Managing Director, Dan Geoghegan, has been a member of the VSCC since joining as a teenager, and is an active participant in a range of events such as hill climbs, rallies, racing and sprints. We are delighted a strong relationship between his new venture and the VSCC has started in earnest. Dan Commented "The VSCC is the leader in promoting vintage car activity and competition, a mission that Bicester Heritage shares. We are delighted to support its 80
th
Anniversary, a fantastic milestone."
A full event listing for the 80
th
Anniversary celebrations can be found
here
, with entries now being accepted for all events online, by downloadable entry form or by sending a SAE to the Club Office.