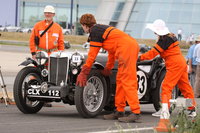 Tuesday 28 January 2014
Volunteer to Marshal with the VSCC in our 80th Anniversary Year
Members will shortly be receiving a copy of the 2014 Marshals' Volunteering Form with their February Newsletter. However, why not get a head start and volunteer for 2014 VSCC Events now at our Marshalling Pages online?
Marshalling can be one of the most rewarding ways to get involved with motor sport up close, and at the VSCC we rely on a huge number of volunteer marshals and organisers to help us make our events happen. If you do not have an eligible car of your own to compete with then marshalling is the next best way to be closely involved in the Club's activities. The VSCC is proud to boast a dedicated core of marshals, many of whom volunteer for duties at several events each year, making it one of the most social aspects within the Club.
Duties vary from event to event and with a wide variety of roles there is something for most ages and abilities. In 2013 almost 800 unpaid volunteers supported the Club, so why not join in the fun?
2014 marks a significant year for the Club and there are a number of special events taking place including an additional 3
rd
day at Prescott (Friday 1 August) and throughout our 80
th
Anniversary Week of Celebrations based at the East of England Showground which follows (4-9 August) so there are plenty of opportunities to get involved.
You do not need any previous experience as on-event training is offered and we will ensure to pair up any novices with one of our experienced marshals.
Visit our Marshalling Pages (
CLICK HERE
) for more information:
Types of duties and events available
Download PDF copies of the 2014 VSCC Marshals Volunteering Form and 2014 MSA Marshal Registration Form
Online Volunteering System (VSCC Members and Registered Marshals Only)
We are now accepting Marshal Volunteers for all events, including our upcoming
Exmoor Fringe Trial
(Saturday 15 February), for which we are still looking for a number of volunteers. If you would like to offer your help, please visit the Event Page (
CLICK HERE
) for contact information.