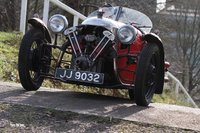 Wednesday 05 February 2014
New Year Driving Tests Provisional Results and Gallery Now Live
Members can now download the Provisional Results from our New Year Driving Tests, which took place last Sunday 2 February at Brooklands Museum.
To visit the New Year Driving Tests Event Page (
CLICK HERE
).
Photos by Phil Jones from the event can also be found here; work from other Photographers will be added to the gallery as they are received.