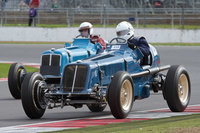 Thursday 06 February 2014
VSCC Silverstone 'Spring Start' 2014 open for business
We are delighted to announce that entries are now open for the Club's prestigious 'Spring Start' Race Meeting taking place at Silverstone on 12 and 13 April. As the established season opener for Vintage and Historic Racing in the UK, we anticipate a full entry brimming with quality and, with the Club's 80th Anniversary in full-swing and our friends at the HGPCA running their traditional Friday Test Day, there is even more reason to join the celebrations at the home of British motorsport this April.
With races catering for all types of Pre- and Post-war Racing and Sports-Cars, there is sure to be machinery on display to satisfy all interests, whilst our competing members will have a wide choice of races to exercise their various cars over the weekend, with opportunities for everyone on both days of the meeting.
As is tradition, Saturday's focus will fall on the VSCC's own GP Itala Trophies with a number of the Club's most prominent silverware for the taking throughout the day's programme, including the collection's namesake GP Itala Trophy for Vintage Racing Cars; the Amschel Rothschild and Patrick Lindsay Memorial Trophies Race will bring together the very best Grand Prix Cars of the immediate Pre- and Post-war eras and, with representatives from exalted names as ERA, Bugatti, Lotus, Connaught, Maserati, Cooper Bristol and Ferrari and many more expected, this is one of the most elite grids you are likely to see anywhere. Our Fox & Nicholl Trophy Race is sure to be a highlight with guaranteed full grid of genuine Pre-war Sports-Cars whilst we also host the Club's traditional Regularity Trial, the ideal introductory event for those new to circuit racing. The day will be complemented by Invited grids from the ever-revered Pre-1966 Grand Prix Cars of the HGPCA, the first of their two races over the weekend and FISCAR, whose Post-war Sports Cars from manufacturers such as HWM, Jaguar and Aston Martin return to celebrate the wonderful career of George Abecassis following last year's successful Centenary event.
Celebrating its own 80
th
Anniversary in 2014, the ERA marque takes centre stage on Sunday, with its own exclusive Race – it has been 10 years since the VSCC last held such as race at Donington Park so this will be one race you will not want to miss. The celebrated Voiturettes will have a further chance to shine as they join a grid of original Pre-1941 Grand Prix Cars from the likes of Alta, Bugatti and Maserati. The series enjoyed two fantastic outings last season, here at Silverstone and at Snetterton in September and we expect even more support for this edition. Pre-war fans will also enjoy a full grid of Sports-Cars competing in the ever-popular Short Handicap format, joined by their Racing brethren for an All-Comers Pre-war Scratch Race; furthermore, we will again host races for Pre-1960 Aston Martins and 1950s Sports Racing Cars, the latter including a repeat of last year's entertaining 2-driver option. As well as the HGPCA's second Pre-'1966 Race, we are joined by our friends at the FJHRA, who will run a round of their Front Engined Formula Junior Championship, and the 500 Owners Association, whose grid of F3 (500) Racing Cars are ever the crowd-pleaser.
Full details of the Race Programme and HGPCA Test Day can be found on the Event Page (
CLICK HERE
). Here you can also download Supplementary Regulations and an Entry Form, the latter to complete and return to the VSCC (post/fax/email accepted). Club Members with a payment card registered with the Office and who know the Eligibility Buff Form number of the car they intend to enter can also use our online entry facility.
Aside from the action on track, 'Spring Start' will again offer the Spectator all that is great about attending a VSCC Race Meeting, with free access to the paddock, where you can get up-close to the cars and drivers, static displays, onsite catering facilities and a busy Trade Village – whether looking for that vital car-part for your own restoration or finding a gift for a Motorsport enthusiast, you are sure to be able to find something. Look out for more details and ticket information very soon.