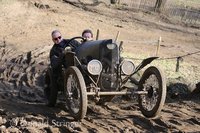 Thursday 13 February 2014
Join the VSCC for a Vintage weekend of Trialling and Touring in Derbyshire on 1 – 2 March
The Club's much-loved John Harris (Derbyshire) Trial takes place on Saturday 1 March, this year complemented by the return of the 'Sunday Run'. But hurry as entries for both events close soon.
The Village Hall in Ashover will again play host to the VSCC and our
John Harris (Derbyshire) Trial
on Saturday 1 March, organised by duo of Stephen Fathers and Andrew Staples and their experienced local team. The Hall has excellent facilities, ample parking and has the added bonus of serving teas, coffees, bacon baps etc. The Trial itself is a firm favourite on the Club's calendar of events with a fantastic day of trialling always guaranteed.
The
Derbyshire Tour
makes a comeback this year the following day (Sunday 2 March), orgainised by local member John Higgs, which we hope will attract both trial competitors and road cars alike, all for a low entry fee of just £15 per car. There will be two tours available on the day also starting from the Ashover Village Hall, with a short one to let those who need to get away early do so. Both routes pass through classic attractions in North Derbyshire, the home of the Peak National Park and the Industrial Revolution, before finishing back at Ashover. For the short tour we've also arranged a private conducted tour of Cromford Mill, Arkwright's first factory, which is included in the entry fee. With the long tour we meander through the country lanes up to Hathersage in the North, birthplace of Little John of Robin Hood fame and the inspiration for Jane Eyre's writing. With many good lunch stops along the way to keep you all fuelled the day is sure to be an enjoyable occasion.
For further information or to enter these events, please follow the relevant link to the event pages below, where you can download Entry Forms, to print, complete and send to the VSCC Office (post/fax/email accepted) or alternatively, you can enter online (remember you will need to have a payment card registered with us and know the Buff Form number of the car you intend to enter to use this facility).
CLICK HERE
to visit the John Harris (Derbyshire) Trial pages
CLICK HERE
to visit the Derbyshire Tour pages
If you have any questions regarding these or any VSCC event, please contact the Competition Department on 01608 644777 (Ext 4) or email
comps@vscc.co.uk