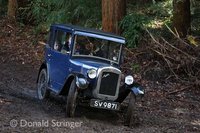 Thursday 27 February 2014
Entries for the VSCC Herefordshire Trial on 15/16 March Close Soon
Members are reminded that entries for the Club's Herefordshire Trial close this Monday 3 March. One of the Club's most popular events, the Trial will take place over the weekend of 15 and 16 March based again at How Caple Court near Ross-On-Wye. Don't delay and submit your entry now to take part.
The two-day event, starting lunchtime on Saturday through to a mid afternoon finish on Sunday is a terrific recipe for a relaxed weekend of motorsport, with plenty of time to travel removing the normal Friday night fight with traffic to get to your B&B and home again come the conclusion. The annual Supper Party on Saturday night in the Concert Barn, to which Marshals are equally welcome, is a 'must-do' on the social calendar, with fantastic food and the announcement of the all important 'halftime scores' (bookings can be made on your Entry Form or contact the Club Office). The organising team is sure to offer a challenging but enjoyable event, including the evermore tactical 'Optional Stop Restart'. Let's hope the sun is shining as the Trials season breaks into the Spring!
Entry Fee:
£65 (½ Price for those 30 years and under on 1 January 2014)
For further information or to enter the event, please follow the link to the event pages below, where you can download an Entry Form, to print, complete and send to the VSCC Office (post/fax/email accepted) or alternatively, you can enter online (remember you will need to have a payment card registered with us and know the Buff Form number of the car you intend to enter to use this facility).
CLICK HERE
to visit the Herefordshire Trial page.
If you have any questions regarding this or any VSCC event, please contact the Competition Department on 01608 644777 (Ext 4) or email
comps@vscc.co.uk