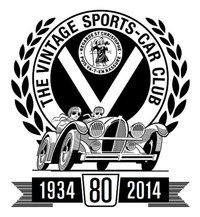 Thursday 06 March 2014
The Vintage Sports-Car Club presents 'A Vintage Day Out'
We are delighted to be able to announce further details of VSCC's Vintage Day Out taking place at the East of England Showground, Peterborough, on Saturday 9 August 2014 and forming the sole Public Admission Day of the VSCC 80th Anniversary Celebrations.
VSCC Members, Friends, Family and Enthusiasts are all welcome to attend this special event where we will be celebrating 'all things Vintage' in true VSCC style.
Visitors will be able to take in an extensive array of Pre-1960 vehicles which will be displayed throughout the venue. Alongside the Car Club displays we are also pleased to announce we will have some special 'Anniversary-themed' features celebrating
80 Years of the Association of Frazer Nash / BMW, 80 years of the ERA and 60 Years of the Riley Register
.
If you are part of a Club, Association or Register of Pre-1960 vehicles and would like to arrange an area for your group to display cars, free of charge, click here for a Booking Form.
We will also be having a commemorative area dedicated to
The Great War
, to mark 100 years since its outbreak, which will feature Veteran and Edwardian cars, military vehicles and some additional surprises.
An extensive Trade Village will also be installed at the showground, with a wide range of products and services available to all in attendance. Visitors will be able to browse books, photographs, paintings, handbags, tyres and car parts to their hearts content in our undercover dedicated Trade Village. Over 30 different retailers have already booked for this event, with pitches starting from only £50 for stand space.
Trade Stand Booking Forms are available for download here.
We will also be creating an area dedicated to The VSCC Pub Meets, where each Pub Meet is invited to create an area to welcome their Members and recruit new enthusiasts. Again, to promote your Pub Meet there is no charge.
To download a booking form click here.
For those with children there will be lots of Fun and Games, with Face Painting, Sweet Stalls, Traditional Funfair Games and a Punch and Judy Show.
Entry is Free of Charge for all VSCC Members or any person displaying a Pre-1960 Car as part of an official display. Entry is just £5 per non-Member adult and free to all Under 16's. Tickets are not being sold in advance, so please make sure you have cash to buy your ticket on the gate and mark Saturday 9 August in your diary!
For full details of the VSCC 80
th
Anniversary Events and Accommodation Bookings
click here
.