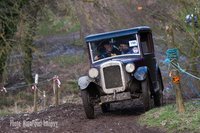 Tuesday 11 March 2014
VSCC John Harris (Derbyshire) Trial Organising Team raises £600 for Ashgate Hospice
Congratulations to the local organising team of our John Harris (Derbyshire) Trial, whose catering efforts at the event Start/Finish venue at Ashover Village Hall, led by Jane Wildsmith and Tina Fathers, helped raise £600 for Ashgate Hospice.
On the morning of the Trial, Jane and Tina provided tea, coffee and bacon sandwiches for our competitors and marshals whilst Jane and her team of helpers also served tea and cake at the end of the day. All profits were donated to Ashgate Hospice and with gift aid they raised a total of £600 (thanks too to Ben Wildsmith, who threw in the extra £3 to make it a round number!)
The VSCC would like to thank Jane, Tina and the entire Team for their efforts on the day and for their contribution to another fantastic John Harris Trial.
Members can now download Final Results and view the Photo Gallery at the event page (
CLICK HERE
)