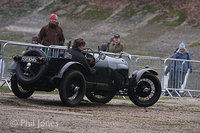 Wednesday 16 January 2013
New Year Driving Tests, Brooklands Museum, Sunday 3 February - Entries Closing Soon!
Entries close soon for our celebrated New Year Driving Tests so if you have yet to submit your entry, do not delay!
To be held at the Brooklands Museum on Sunday 3 February, the event always attracts a good crowd of competitors and spectators to the historic venue, with Tests scattered across the site, including the famous 'Test Hill'. It has long been an activity to rid those post-Christmas blues and to give the car a good run out at the start of the new season's competitive calendar.
VSCC Driving Tests are a terrific introduction to Pre-war motor sport, demanding good car control at low speeds whilst being one of the cheapest disciplines (Entry Fee £48, ½ Price for those aged under 30 years on 1 January 2013*). As such, they often attract a good number of younger competitors (minimum Competitor Age is 16, no Driving Licence required – restricted to Touring Cars under 1400cc). Read more about our Driving Tests
HERE
.
* New for 2013
The closing deadline for the event is fast-approaching on Monday 21 January so you still have a chance to submit your entry. Visit the Event Page
HERE
to enter online (must have a current credit card lodged with the Club) or to download an Entry Form to complete and return. Shared entries are also being accepted.
If your car is still in 'hibernation' after the winter break or if you don't own an eligible car, why not get involved and volunteer to marshal? Always a great social occasion, the event is dependant on its band of volunteers to help run the tests so earn yourself some "brownie points" for the 2013 season ahead! Read more about Marshalling and how to volunteer
HERE
.
And don't forget…
The Brooklands Film Night, Saturday 2 February
Our friends at the Brooklands Museum will be hosting their annual precursor to our event on the Saturday evening.
The evening will include a 2-course dinner and the archive films to be shown will cover the usual broad spectrum of Brooklands and other subjects. The Bar will be open from 6.00pm, with dinner at 7.00pm, followed by films, with close at approx 10.30pm, bar service available throughout. The Motoring Village of the Museum will remain open from its normal closing time of 4.00pm until 6.00pm for those attending the Film Night. Prices are:
Adults £22.50 Under 16s £15.00
Tickets are available from Ann Watson, Brooklands Museum, Brooklands Road, Weybridge, KT13 0QN (phone 01932 857381 Ext 243), SAE and notification of vegetarian or other special requirements requested. Ensure you book early to avoid disappointment and to avoid holiday postage delays
For further information on this event day, follow the link to the Event Page above. For any further queries on this or any other VSCC event, please contact the Competition Department on 01608 644777 Ext 4 or email
james.taylor@vscc.co.uk