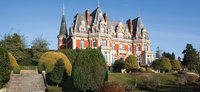 Friday 21 March 2014
CHATEAU IMPNEY TO WELCOME THE VSCC FOR A WEEKEND OF CELEBRATIONS
VSCC members from all over the UK and beyond will be making their way to Chateau Impney Hotel, Nr Droitwich Spa, Worcestershire this weekend where, following the success of last year's inaugural event, we are again delighted to combine the Club's AGM (Saturday, 11am) over the weekend with the Annual Awards Dinner tonight and the Marshals' Forum and Dinner tomorrow.
The weekend is one of the most important of the Club's year with both the vital business of the Annual General Meeting being conducted and the achievements of the Club's 2013 Award Winners celebrated. The combined format has proved more popular than ever this year with record numbers booked to attend, evidently all looking forward to visiting this most historic of venues.
For those not aware of Chateau Impney's motoring association, it was a Sprint venue in the late 1950s and has been used as a service point on many notable Rallies in history. It has recently been purchased by the Spollon family, a name synonymous in the VSCC so we are delighted to bring this important Club event to the newly re-opened landmark, in advance of a return of motorsport to the venue in 2015.
Over 100 guests will attend this evening's Annual Awards Dinner, where they will enjoy a fine three course meal and followed by an exclusive interview by revered motorsport Commentator Ian Titchmarsh, our compère for the weekend, with Damien Smith, Editor of Motor Sport Magazine who will also be presenting the awards, including the Motor Sport Brooklands Trophy.
Saturday will see both AGM (11am - Members Only) and Marshals' Forum (3.30pm) take place; these are both prime opportunities for Club Members/Marshals to voice any queries or ideas concerning the Club and its activities so we look forward to seeing many of you in attendance.
Following the day's business formalities, we look forward to the VSCC's annual Marshals' Dinner, undoubtedly one of the social highlights of the year. As a thank you for their efforts throughout the previous season, invitations are sent to the Club's most loyal and dedicated volunteers, with almost 200 guests expected at this year's event to enjoy a meal (complete of course with the obligatory main course of Steak & Kidney Pudding) and After-Dinner interview with a very Special Guest.
Chateau Impney is minutes from the M5 and M42, south of Birmingham. For more information please visit their website at
www.chateau-impney.com