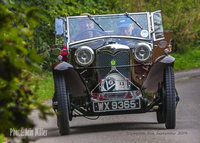 Tuesday 09 September 2014
VSCC Autumn Rally Provisional Results are now Live
Members can now download the Provisional Results from the Autumn Rally, which took place last weekend on Saturday 6 September, based at the Cromford Mill near Matlock in Derbyshire.
Despite a number of last minute organisational changes, the day proved a huge success as local Club stalwart Anthony Costigan took on the mantle of Clerk of Course and, together with his experienced team of VSCC and local supporters, hosted a fine Navigational Rally for our competitors.
An enjoyable yet challenging route ensured to keep things interesting throughout the day, with a number of crews vying for the spoils to the end.
Our thanks go to Anthony, Secretary of the Meeting, Robert Ellis and the entire team for their fantastic efforts in taking on the event on such short notice and ensuring another fantastic addition to the Club's calendar this year.
CLICK HERE
to visit the Autumn Rally Event Page (you must be logged with your Membership Number and Pin).