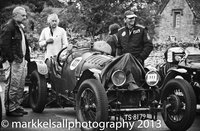 Friday 12 September 2014
VSCC Hill Climb Season Finale this weekend at Loton Park
As tradition dictates, the Club will herald the end to another stellar Hill Climb season with our ever popular Loton Park event as we look forward to welcoming over 150 Pre-war and Historic Racing and Sports-Cars to Shropshire this weekend, 13/14 September.
Set within the confines of the Loton Park Estate's picturesque deer park, the 1475 yards course is a great challenge for both car and driver, with competitors getting two Practice Runs on Saturday and two Timed Runs counting towards the competition on Sunday. The event boasts the full complement of Pre-war classes as well as an Invited Class catering for Post-war Racing Cars (e.g. F3 500) and other Invited Pre-1966 Cars.

In excess of forty celebrated marques will be represented from AC to Wolseley as this year sees a bumper entry descend for this most popular weekend on the Club's calendar, in this significant 80th Anniversary year of the VSCC. Whilst a number of returning Class winners will be looking to defend their crowns, with Jerome Fack's Brough Superior and the Morgan/Riley of David Pryke both hotly tipped to repeat amongst the Sports-Car classes and Tim Greenhill's Wolseley Hornet a heavy Class favourite in the Racing Car contingent, a number of others are absent this weekend, opening the door for some new names to claim the silverware. Jonathan Miller's Stutz Bearcat looks a strong bet for top Edwardian whilst a whole host of Pre-1931 machinery will be vying for the Vintage bragging rights in the absence of 2013 table-topper, Dougal Cawley's GN/Ford Special 'Piglet'. But will anybody be able to challenge Robert Cobden who returns to defend his Fastest Time of Day title and will no doubt start as favourite again in his Riley Falcon Special.

Away from the track, there will be the traditional Trade Village, including our own Club Display, where a selection of the VSCC Regalia will be available, as well as catering serving hot/cold food; spectators can enjoy free access to the Competitor Paddock where they can wander among the rows of wonderful machinery, see the cars up-close and talk to the drivers. With its idyllic setting, relaxed paddock atmosphere and thrilling track, Loton Park is truly one of the highlights of the Club's season.

Tickets are available on the gate (£6 on Saturday, £10 on Sunday) and Under 16s go free so why not make a family trip to Shropshire this weekend.

Loton Park is 9 miles west of Shrewsbury off the A458 just beyond the village of Alderbury (SatNav SY5 9AG). Runs will begin at approx. 9.30am on both days, with a lunch break scheduled for 1.00-2.00pm before on-track action continues.