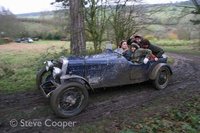 Wednesday 30 January 2013
VSCC 2013 Trials Season is go!
We are now accepting entries for the Club's first four Trials of the year so make sure you don't miss out and submit yours now!
One of the VSCC's most popular disciplines, our off-road Trials attract some of the biggest entries in the UK and always prove a most enjoyable and social occasion. Read more about Trialling
HERE
.
Entries are now open for the following:
Exmoor Fringe Trial,
Saturday 16 February (click
HERE
)
John Harris (Derbyshire) Trial,
Saturday 2 March (click
HERE
)
Herefordshire Trial,
16/17 March (click
HERE
)
Scottish Trial,
Saturday 13 April (click
HERE
)
Members can enter online now by following the relevant link above and clicking on 'Enter Event' then 'Enter Online' (please note you must have a current credit card lodged with the Club and know the Buff Form number of the car you wish to enter). Alternatively, download an Entry Form to complete and return to the Office; again, follow the correct link above, click 'Enter Event' then 'Download Entry Form'.
Another way to get involved with our Trials is by volunteering to marshal. It is a terrific opportunity to get close to the action and a great way to give a little back to the Club. Learn more about Marshalling and volunteer for all VSCC events online now by visiting our Marshals pages
HERE
.
If you have any questions about these or any VSCC event, please contact the Competition Department on 01608 644777 Ext 4 or email
james.taylor@vscc.co.uk