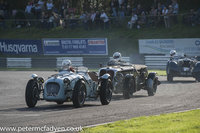 Wednesday 17 September 2014
VSCC to again feature at the Castle Combe Autumn Classic – Entries Closing Soon
The VSCC will again host a Pre-war Sports-Car Race at the ever-popular Castle Combe Autumn Classic on Sunday 5 October. New for this year, the event is open to all eligible Pre-war Sports-Cars. But hurry if you want to take part as entries close soon!
Building on the success of the past two events, the Club is delighted that we have once again been invited to take a headline race at the 'Castle Combe Autumn Classic Meeting' on Sunday 5 October, supported by Carole Nash Insurance & Bristol Forklifts. The race will be dedicated to
Pre-war Sports-Cars
that showcase the Vintage Sports-Car Club at its very best. Following on a week after the last official VSCC Race Meeting of the season at Snetterton, it is an ideal conclusion to the competition year.
Download an Entry Form and Supplementary Regulations from the event page (
CLICK HERE
– select the 'Competitors' tab) or contact the Competition Department for more information. All completed entries must be sent directly to Castle Combe.
Be aware that entries will close before our upcoming Snetterton Race Meeting so we ask please do not wait until after this to decide if you will enter. If you are forced to withdraw due to mechanical issues at Snetterton, be aware that Castle Combe will offer full refunds for those who inform them in writing before 5.00pm on Thursday 2 October (see Supplementary Regulations for complete refund information).
The 'Autumn Classic' has a wonderful, relaxed 'end of season' atmosphere at a fantastic 1.85 mile circuit that the Club rarely gets the chance to visit and is supported by a number of other high quality grids which may well appeal to our members and fit well with our Pre-war grid, in particular Formula Junior, Historic Aston Martins, Jaguar Pre-66, HDI Big Healeys and the FiSCaR 50's Intermarque, F3 (500) and Bernie's V8s and Monster Machines.
Spectators are encouraged to wear period clothing and there is a special 'Classic & Cherished' parking area and a 'Buy One Get One Free' offer for our members. Spectator tickets cost only £15.00 for two and children under 17 go free. Call 01249 782417 or go to www.castlecombeautumnclassic.co.uk to book and quote 'VSCC2014'.