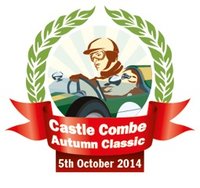 Thursday 25 September 2014
Last Call for the VSCC Pre-war Sports-Cars Race at the Autumn Classic!
Calling all VSCC Sports Car Racers! Today is your very last chance to be part of the Club's final grid of the season – the highly varied and very successful Autumn Classic, which takes place at Castle Combe in Wiltshire on Sunday 5 October.
With its 64 year history, Castle Combe Circuit has always provided tried and trusted motor sport entertainment. But in 2012, a simple idea for a 'Classic' themed meeting proved to be one of its best and with last year's event hailed as even more of a success, 2014 is shaping up to be the best yet!
With eight races the fabulous cars speak for themselves, with a mixture of the very ancient to sixties single-seaters in the shape of the popular Formula Juniors. The 'Big Healeys' will be as competitive as ever while the crowd-pleasing 500cc Formula 3 cars return for the first time since 1955. Add in pre-66 Jaguars, historic Aston Martins and a 1950s sports car Inter-marque race and you have a full afternoon.
The whole circuit will be stepping back in time, with numerous club stands, displays and period style aplenty.
This is your very final chance to enter. As you will see from the Provisional Entry List below, we have the makings of a fantastic grid to represent the Club – but there are still a few places remaining if you would like to join!
Cls
Driver
Car
CLASS A - up to 1100cc (and supercharged cars up to 750cc)
A
Baker (Andrew) A.
RILEY BROOKLANDS
CLASS B - 1101-1500cc (and supercharged cars 751-1100cc)
B
Blakeney-Edwards (Patrick) P.B.
FRAZER NASH SALOON
B
Darbyshire (Sue) Mrs S.
MORGAN SUPER AERO
B
Foster (Barry) B.T.
MG MONTLHERY
B
Clear (Allen) A.A.
RILEY TT SPRITE
B
Lees (Nicholas) N.H.S.
RILEY SPRITE 2STR
B
Mitchell (Andrew) A.C.W.
HRG 1 1/2 LITRE
CLASS C - 1501-3000cc (and supercharged cars 1101-2250cc)
C
Polson (John) J.A.E.
TALBOT AV 105
C
Wadsworth (Tim) T.
LAGONDA 2 LITRE L/C TOURER
C
Frankcom (Robert) R.C.
TALBOT 105 ALPINE
C
Freeman (David) D.J.
ASTON MARTIN SPEED MODEL
C
Chase-Gardener (Paul) P.C.
ASTON MARTIN 15/98 SPEED MODEL
CLASS D - over 3000cc (and supercharged cars over 2250cc)
D
Fenwick-Wilson (Anthony) A.
RAILTON LIGHT SPORTS 2+2
D
Reay-Smith (Richard) R.P.M.
LAGONDA LG 45
D
Brett (Mark) M.A.
BALLAMY-FORD (LMB) V8 SPECIAL
D
Guyatt (John) J.B.
TALBOT LAGO T150C
Entry Fee is just £280
and includes 5 Personnel Entry Tickets, 1 Paddock Vehicle Pass (for your transporter or tow-vehicle), 1 Private Vehicle Pass (for your road car or motor home), 15 minute practice, 20 minute race, hire of a transponder and light refreshments at the Owner-Driver-Mechanic hospitality tent on the day.
You will find attached Supplementary Regulations, the latest Timetable for the event and an Entry Form, the latter to complete and return to the Castle Combe Office as soon as possible (fax/email acceptable to Jo Lewkowicz at the Castle Combe Racing Club on 01249 782392 or
jol@castlecombecircuit.co.uk
). Remember that any entry fee cheques should be made payable to Castle Combe Racing Ltd.
The Entry List will close this Friday 26 September and Instructions/Tickets posted*
*NB
We cannot guarantee that we will be able to accommodate any late entries following our own Snetterton Meeting this weekend so if you are undecided, please do not delay – submit your entry and let us know if you are forced to withdraw (refunds applicable until Thursday 2 October).
The VSCC Race is just one highlights of the day's 7 Race Programme, which includes:
Formula Junior Historic Racing Association Championship Race
Historic Aston Martins Race
Jaguar Enthusiasts Club, 'Norman DewisTrophy' Race
Healey Drivers International Big Healey Race
FiSCaR 50's Inter-Marque Race
VSCC Pre War Sports-Cars
F3 500
(See the attached Regulations and Timetable for full details)
If you have any questions, please contact the Competition Department on 01608 644777 Extension 4 or
andy.halstead@vscc.co.uk