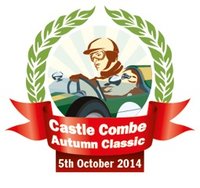 Monday 06 October 2014
Castle Combe Classic basks in Autumn Sunshine
VSCC was delighted to host a grid of Pre-war Sports-Cars at yesterdays Castle Combe Autumn Classic.
A total of 25 Pre-war Sports-Cars took to the grid, with Fred Wakeman in his Frazer Nash Super Sports finally taking the spoils from close rival, David Freeman in his Aston Martin Speed.
Further down the finishing order the race saw seasoned racers peppered throughout the field, including Patrick Blakeney-Edwards in his wonderful Frazer Nash Saloon 'Owlet', VSCC Club President Tim Kneller in his Riley TT Sprite and VSCC youngster Andrew Baker in his Riley Brooklands.
A full set of Results is now available for download here.