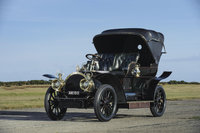 Thursday 06 November 2014
NORFOLK STEAM CAR HEATS UP BONHAMS SALE WITH £371,100 FOR 1905 GARDNER-SERPOLLET 18HP TYPE L PHAETON STEAMER
A rare 109 Year Old Steam Car, originally bought by a Norfolk farmer for £450, sold for £371,100 at Bonhams annual London to Brighton Veteran Car Run Sale last Friday 31 October.
Taking the Sale 'top spot', the rare Gardner-Serpollet was one of 23 cars and 162 lots of Automobilia at Bonhams biggest London to Brighton auction yet, with the Sale collectively achieving £1.5 million.
With his passion for motoring, the late George Milligen was no ordinary Norfolk farmer. Often seen out driving the cars from his varied motoring collection, he purchased the Gardner Serpollet in 1946 for £450 from harpsichord maker, Alec Hodson, and kept it in excellent condition throughout his decades of ownership – remaining in his family for fifty years.
Elsewhere, a turn of the century 1900 Cleveland Sperry System Electric Three-Seater Stanhope sold for £55,200 to a telephone bidder from Austria who, after giving the winning bid, promptly flew into the UK just to take part in Sunday's London to Brighton Run in his auction purchase.
"It's wonderful when we're able to give our buyers the opportunity to take part in the Run year-on-year. Bonhams have again enjoyed another wonderful London to Brighton Sale, with an excellent turnout and some truly wonderful motor cars sold," said James Knight, Bonhams Group Motoring Director.
Further Sale highlights include a 1901 Panhard et Levassor Twin-Cylinder 7hp Rear-Entrance Tonneau at £259,100; a 1903 Malicet et Blin 8hp Four-Seater Rear-Entrance Tonneau at £102,300; and a charming 1904 De Dion Bouton 8hp Model V Coupé to an auction room bidder for £88,860.
The next Bonhams event will be the Collectors' Motor Cars and Motorcycles Sale at the Great Yorkshire Showground, Harrogate on Wednesday 12 November. CLICK HERE for further information.