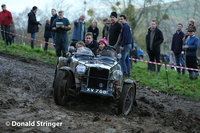 Tuesday 25 November 2014
Provisional Results and Photo Gallery from the Cotswold Trial are now Live
Members can now download Provisional Results from the final event of the 2014 VSCC Trials Season, the Cotswold Trial, which took place this past weekend on Saturday 22 November based at Prescott.
To download Provisional Results, please visit the Cotswold Trial Event Page (
CLICK HERE
). A selection of photos from the event is also now available to view in the gallery on the Event Page.