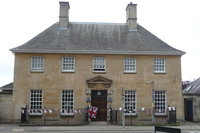 Thursday 04 December 2014
The Vintage Sports-Car Club welcome Dave Salmon as Club Secretary
The Club are delighted to announce the appointment of Dave Salmon as the new Club Secretary.
Dave served in the Royal Air Force for almost 20 years before leaving as a Wing Commander in 2008 to pursue commercial activities. Whilst in the military he served both home and abroad in a myriad of personnel and finance related appointments and spent the last 5 years of his Service working within the Ministry of Defence London on tri-Service policy and strategy matters.

On leaving the Royal Air Force, he set-up and managed an e-commerce lighting retailer for the past 6 years gaining valuable experience in multi-channel sales, trade purchases, importing / exporting as well as customer services management, budgets and marketing .

Seeking a fresh challenge Dave takes over the role of Club Secretary with immediate effect from acting incumbent, Steve Allen.

The Club would like to offer its sincerest thanks to Steve for stepping into the role for the past few months and he will continue to work with Dave throughout the handover process.