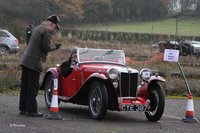 Friday 05 December 2014
VSCC Winter Driving Tests to herald an end to an exemplary 80th Anniversary Year
Our annual Winter Driving Tests will bring the VSCC's 80th Anniversary year to a suitably festive finale tomorrow, Saturday 6 December, where we are delighted to welcome the support of Robert Glover Ltd and County Bicester as part of a bumper day of Club activities at Bicester Heritage.
Following announcement of the Club's accolade as 2014 Club of the Year at the recent International Historic Motoring Awards, we are thrilled to welcome an incredible entry of almost 90 Pre-war cars – by far the biggest entry for a number of years – who will take on the challenge of the Winter Driving Tests, the traditional season curtain-closer. Download a Provisional Entry List for the day (
CLICK HERE
).
After 36 years at the helm, Malcolm Elder passes on the Clerk of the Course role to son, Mark for this year's event, the last chance for competitors to accrue those all-important points towards the Club's many Annual Aggregate Trophies as well as their final opportunity to compete in earnest with the Club this year.
Driving Tests are a fun and challenging discipline and often seen as a great introduction to motor sport for the younger member, promoting car control and accuracy in an entertaining and friendly surrounding.
Spectators are most welcome to attend and entry is free so embrace the wintery conditions and come and admire the
Vintage
driving skills of our members.
Breakfast and lunch will be available at the venue on the day, which alongside our Winter Driving Tests, will include a milestone 25
th
Year of MSA Medicals carried out by our team of VSCC Doctors (
CLICK HERE
for more information) and the Club's annual Race & Speed Forum (starting at 2.30pm).
Event Timetable
0800hrs – 1000hrs Signing-on and Scrutineering Open
0945hrs Test Sites Open
1230hrs – 1330hrs Lunch Break
1545hrs Test Sites Close
Bicester Heritage is located on the Buckingham Road, Bicester, Oxfordshire, OX26 5HA, approx. 4 miles from either junction 9 or 10 of the M40, 15 miles south west of Silverstone. Gate Marshals and signage will direct you upon arrival.
For more information, please visit
www.bicesterheritage.co.uk
Based at Bicester Heritage,
Robert Glover Ltd
was founded in 2013 by VSCC Club Member, Robert Glover, specialising in the sale of historic sports, competition and touring motor cars to an international collector client base. Although there is a leaning towards the sale of Pre-war motor cars, the company also caters for road-going sports-cars that were produced from the 1940s – 1960s as well as competition motor cars from almost any era.
Robert says, "[We] look forward to the Vintage Sports-Car Club's visit to Bicester Heritage on Saturday 6 December for the Winter Driving Tests. Our showroom, aptly named The Power House, is conveniently located on site at Bicester Heritage and will be open on the day of the event.
"Competitors, Marshals and Spectators are welcome to inspect the cars on display in our showroom and to receive complimentary impartial advice regarding any future sales and acquisitions of VSCC eligible motor cars."
For more information, please visit
www.robertglover-ltd.com
County Bicester
represent the Chevrolet and Vauxhall brands from General Motors in Bicester and have been looking after customers in Bicester and the surrounding towns and villages for over thirty years. In addition to these brands, they have recently secured the franchise for both SsangYong and MG, the latter seeing the return of the celebrated British marque to its Oxfordshire roots.
Keen to celebrate the heritage and traditions of the brand in the region, the County team will be bringing two new cars from their MG range to display at Bicester Heritage this Saturday, with representatives on hand to deal with any enquiries.
They have also kindly provided a bottle of Champagne to be awarded to one of the day's top performers in the Driving Tests competition.
For more information, please visit
www.countysv.co.uk
We would like to thank both Robert Glover Ltd and County Bicester for their kind support, as well as Bicester Heritage, our hosts for the day.