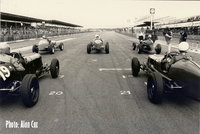 Tuesday 09 December 2014
VSCC announces Provisional Race & Speed Calendar of Events for 2015
The Club announced the provisional dates for Race and Speed Events in 2015 at the recent Race & Speed Forum, which took place alongside the Winter Driving Tests at Bicester Heritage this past weekend.
As part of the our traditional calendar of five Race Meetings, next season will see the Club make a long-awaited return to Oulton Park on 18/19 July, to include a full day race programme on the Saturday, in which we hope to include the Team Race, and a festive Club gathering on the Sunday, which will incorporate a host of activities. Circuit owners MotorSport Vision are eager to see the Club's return and have also offered use of the venue's facilities for a social event on the Saturday evening.
We will also be back at Mallory Park; we are delighted to return to the Leicestershire venue on Saturday 22 August and look forward again to one of the most popular events of the calendar.
To make way for these two events, the VSCC will not be going to Donington Park or Pembrey next season. It is also noted that Silverstone 'Spring Start' will only be a 1-day event. Specific content for all meetings is still being finalised and details will follow soon.
The Club also announced plans for a new Sprint & Hill Climb Championship, which will be tested next year in the form of a series before potentially becoming a formal Championship in 2016. It will follow a similar points system to the Club's highly successful Owner Driver Mechanic Series and, it is hoped, will encourage Club Members to participate across a full season and increase participation across all classes.
The Provisional Race/Speed Calendar for 2015 is as follows:
Pomeroy Trophy Saturday 21 February
Silverstone Spring Start Race Meeting Saturday 18 April

(GP Itala Trophy)


Curborough Speed Trials Sunday 3 May
Wiscombe Park Hill Climb Sunday 10 May
Harewood Hill Climb Saturday 6 June (tbc)
Cadwell Park Race Meeting Sunday 7 June

(Shuttleworth, Nuffield Trophies)


Brooklands Speed Trials Saturday 13 June
Shelsley Walsh Hill Climb Sunday 5 July
Oulton Park Race Meeting Saturday 18 July (

Hawthorn Memorial Trophies)


Oulton Park VSCC Club Day Sunday 19 July
Prescott Long Course Hill Climb Friday 31 July
Prescott Speed Hill Climb Saturday 1 / Sunday 2 August
Mallory Park Race Meeting Saturday 22 August

(Bob Gerard Memorial Trophy)


Loton Park Hill Climb Saturday 12 / Sunday 13 September (tbc)
Snetterton Race Meeting Sunday 27 September

(Seaman Memorial Trophies)


Castle Combe Autumn Classic Saturday 3 October

(Pre-war Sports-Car Grid)


Autumn Sprint at Goodwood Saturday 24 October