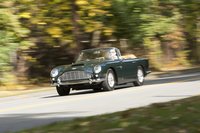 Thursday 18 December 2014
BONHAMS SHOWCASES THE BEST OF BRITISH RACE BRED ENGINEERING AND ITALIAN COACHWORK AT ANNUAL PARIS AUCTION
Two fantastic cars from British luxury marque Aston Martin are set to be offered at Bonhams Paris Sale on Thursday 5 February 2015.
Two fantastic cars from British luxury marque Aston Martin are set to be offered at Bonhams Paris Sale on 5 February 2015.
Sale highlights, the 1962 Aston Martin DB4 Convertible, estimated at €1,200,000-1,600,000 (£950,000-1,250,000), and the 1965 Aston Martin DB5 Convertible, estimated at €1,600,000-1,900,000 (£1,250,000-1,500,000)
2015 will be the biggest Bonhams Grand Palais sale to date, with around 130 motor cars
Synonymous with Britain, and of course, British movie heroes, the luxury marque has produced some truly iconic motor cars throughout its decades of manufacture – arguably none more so than those designed in the David Brown era: the DB4 and DB5.
With only 70 produced, the 1962 DB4C is one of the rarest Aston Martin roadcars of its era. It successfully combines the brands traditional virtues of style and performance with the delights of open air motoring, and is today a most sought after and highly prized motor car.
Introduced in 1963, the DB5 was a development of the preceding DB4. Classically proportioned, the Touring-designed body established an instantly recognizable look that would stand the marque in good stead until 1970. Only 19 DB5 convertibles were ever made in left-hand drive, making this offering a very rare find.
Philip Kantor, Bonhams European Head of Motoring, said: "The duo of Aston Martins offered are perfect examples of the superior design that took hold of the brand in its post-war David Brown era - the cars were driven by the coolest of cool, and were accordingly featured in films of the decade; the DB5 model is synonymous with the James Bond franchise, and the DB4C came to a treacherous end over the alpine cliff edge in
The Italian Job
.
"Unusually, the pairing are both left-hand drive convertibles, making them ultra rare and highly sought after. They feature beautifully designed Italian coachwork from Touring's
Superleggera
, successfully crafted on what is otherwise a very British car. At Bonhams we're seeing great demand in the trend for cars of the 1960s, so expect some spirited bidding at our upcoming Paris auction."
Bonhams Grand Palais Sale takes place in Paris on 5 February 2015. CLICK HERE for further information.