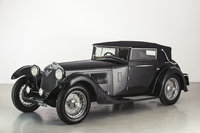 Monday 09 February 2015
BONHAMS CONTINUES MOTORING SUCCESS WITH RECORD BREAKING GRAND PALAIS PARIS SALE
The Bonhams Paris auction during Retromobile week witnessed record-breaking prices, international bidding, and a record breaking total for a motor car auction held by the Bonhams Group in continental Europe.
The Aston Martin DB5 Convertible set a new world record for the production model, selling at €1,897,500 (£1,430,715)
1930 Alfa Romeo 6C-1750 Grand Sport sold for €1,184,500 (£893,113)
A Harley Davidson FLSTC 103 Heritage Softail Classic, gifted to Pope Emeritus Benedict XVI, sold for almost double estimate at €46,000 (£34,684)
Previously raced by Ayrton Senna, a DAP Kart from 1981 sold at €59,720 (£43,355)
The Sale attracted bidders from across the globe with buyers from the Middle East, Far East, North and South America and Australasia competing against the European market.
Several lots sold far above estimate and a new world auction record was set for a factory specification 1965 Aston Martin DB5 Convertible, further cementing Bonhams leadership with this luxury British marque. The outstanding DB5 sold to an auction room bidder against the telephone for €1,897,500 (£1,430,715). Only 39 DB5 convertibles were manufactured in left-hand drive.
Elsewhere, one of the all-time great classic sports cars, the ex-Amschel Rothschild 1966 AC Cobra 289 'Mark II' Roadster was the runaway sale of the day, selling to a British bidder in the room for an above estimate price of €937,250 (£707,686).
The Alfa Romeo 6C-1750 Grand Sport was also subject to some spirited bidding. Having once been driven by arguably one of the most famous racing Russians – exiled Russian Imperial Guardsman, Boris Ivanowski – the 6C finally sold to a European bidder in the room for €1,184,500 (£893,113).
Elsewhere, Jacque Gérin's radical 1922 Gerin Aérodyne Saloon Prototype was an unusual addition to the Bonhams sale, representing the sheer breadth of motor cars for which Bonhams is accustomed; it was discovered three years ago after a lengthy 15-year search, appearing at public auction for the very first time at Bonhams sale. The Gerin sold to an in the room bidder for €184,000 (£138,736).
In the early Veteran field, a mighty London to Brighton eligible 1904 Panhard-Levassor Four-cylinder 35hp Sports Two-Seater realised €747,500 (£563,615).
A Harley-Davidson motorcycle blessed with the signature of Pope Emeritus Benedict XVI (and later received by Pope Francis) was sold in aid of a Polish charity. The Harley Davidson previously took part in a special countdown to the marque's 110th Anniversary celebrations, during which the Pope blessed it with a signature. Soaring above estimate, the holiest of Harleys finally sold to a telephone bidder at €46,000 (£34,684) – the winning bidder also purchased the Pope Francis 1,585cc Harley-Davidson Dyna Super Glide, sold at Bonhams Paris auction in 2014.
Philip Kantor, Head of the Continental European Motoring Department, said: "The Sale has attracted international attention, and surpassed all previous auction totals for our Paris auctions."
James Knight, Bonhams Group Motoring Director added, "The Bonhams motoring group has witnessed a tremendous start to 2015. Our USA division conducted record breaking auctions at Las Vegas and Scottsdale and now the European team have delivered their best ever Paris Sale. The market is in rude health and we look forward to the March Sales at Amelia Island in Florida, the Goodwood Members' Meeting Sale in the UK and the annual Mercedes-Benz Sale in Stuttgart, Germany."