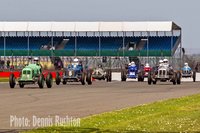 Monday 16 March 2015
Who's ready for VSCC 'Spring Start' at Silverstone - Entries Now Open!
Entries are now open for the Club's celebrated Silverstone 'Spring Start' Race Meeting taking place on Saturday 18 April. The established season opener for Vintage and Historic Racing in the UK always boasts a full entry brimming with quality so be sure to join us at the home of British motorsport.
Returning to a one-day format for 2015, the day will include our traditional VSCC sets in the form of our illustrious GP Itala Trophy Races, catering for our core Competitors of Vintage, PVT and Historic Racing and Sports-Cars. There is sure to be machinery on display to satisfy all interests, whilst our competing Members will have a wide choice of races to exercise their various cars on the day.
The GP Itala Trophies feature a number of the Club's most prominent silverware, including the collection's namesake GP Itala Trophy for Vintage Racing Cars; the Amschel Rothschild and Patrick Lindsay Memorial Trophies Race will bring together the very best Grand Prix Cars of the immediate Pre- and Post-war eras and, with representatives from exalted names as ERA, Bugatti, Lotus, Connaught, Maserati, Cooper Bristol, Ferrari and many more expected, this is one of the most elite grids you are likely to see anywhere. Our Fox & Nicholl Trophy Race is sure to be a highlight with a guaranteed full grid of genuine Pre-war Sports-Cars whilst we also host the Club's traditional Regularity Trial, the ideal introductory event for those new to circuit racing.
The day will be complemented by Invited grids from FISCAR, whose Post-war Sports-Cars from manufacturers such as HWM, Jaguar and Aston Martin return to celebrate the wonderful career of George Abecassis, and a race for 1950s Sports Racing Cars, who never fail to put on an entertaining show in their powerful machines.
We are also delighted to announce our new venture of
Premier Cru Racing
, a grid of original Pre-1941 Racing Cars from the likes of ERA, Alta, Bugatti and Maserati, a showcase for the pioneering years of Grand Prix Racing of the 1920s and 30s. The series has enjoyed a number of fantastic outings over the last couple of seasons at Silverstone and at Snetterton and we now look to develop this grid into a headline fixture of VSCC Racing and a leading complement to our existing 'sets'. In addition to Silverstone, we will also host rounds at Oulton Park (18 July) and Snetterton (27 September) in 2015.
As ever, Pre-war fans will also enjoy full grids competing in the ever-popular All-Comers Pre-war Handicap and Scratch short formats.
Full details of the Race Programme can be found on the Event Page (
CLICK HERE
). Here you can also download Supplementary Regulations and an Entry Form, the latter to complete and return to the VSCC (post/fax/email accepted). Club Members with a payment card registered with the Office and who know the Eligibility Buff Form number of the car they intend to enter can also use our online entry facility.
Aside from the action on track, 'Spring Start' will again offer the Spectator all that is great about attending a VSCC Race Meeting, with free access to the paddock, where you can get up-close to the cars and drivers, a mouth-watering display from our Principal Associates Bonhams, onsite catering facilities and a busy Trade Village – whether looking for that vital car part for your own restoration or finding a gift for a Motorsport enthusiast, you are sure to be able to find something.
Advance Spectator Ticket Prices are as follows:
VSCC MEMBERS
book online via the 'Tickets' tab at the Event Page (
CLICK HERE
) or call the VSCC Ticket hotline on 01608 644999
£7.50 in advance (+£2 P&P fee per order)
£10 on the day
GENERAL PUBLIC
book online at the 'Spring Start' Event page on the Silverstone website (
CLICK HERE
) or call 0844 3750740
£9 in advance (+£3 P&P fee per order)
£10 on the day
Children under 16 go free. Advance ticket sales close 14 April.