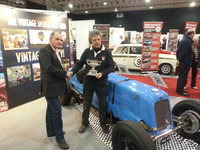 Wednesday 25 February 2015
Club enjoys a successful weekend at Race Retro (UPDATED)
The VSCC stand welcomed hundreds of visitors over the three days of the Race Retro International Historic Motorsport Show at Stoneleigh Park this past weekend.
Located in its usual spot on 'Speed Street' in Hall 2, the stand stood alongside a number of other celebrated Historic Racing Series organisers, where we were delighted to have the awesome Frazer Nash 'Norris Special' on display for the duration of the show to help promote the Club's activities for the season ahead.
Friday afternoon saw the presentation of one of the Club's most prestigious Racing Championship awards, the Motor Sport Brooklands Memorial Trophy at the Club's stand to Julian Grimwade, owner of the 'Norris', who enjoyed an incredible first full season with the car to just get the better Nick Topliss and ERA R4A on count-back ruling.
The Club's Chief commentator, Nick Upton was on-hand as Master of Ceremonies whilst we were also delighted to welcome Simon Arron, celebrated motorsport journalist to present the trophy on behalf of Motor Sport magazine.
Our thanks to Julian, for lending us the display car and to all those Club Member volunteers, who helped man the stand throughout the weekend.
Two highlights of the Show included the Presentation of the Motor Sport Brooklands Memorial Trophy to Julian Grimwade and an interview with Press & PR Secretary, James Taylor. See the videos via the links below:
Motor Sport Brooklands Memorial Trophy Presentation
Interview with VSCC Press & PR Secretary