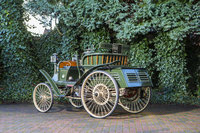 Wednesday 04 March 2015
115-YEAR-OLD BENZ IDEAL OFFERED AT BONHAMS MERCEDES-BENZ SALE
A rare, fully restored, 115-year-old Benz Ideal is the oldest motor car offered at Bonhams single-marque Mercedes-Benz Sale. The annual auction takes place 28 March in Stuttgart, Germany, and will feature more than 40 lots of Collectors' Motor Cars.
The Benz Ideal was an early development of the original, groundbreaking combustion-engined motor car, the Vélocipede (commonly known as the Velo). The impressively restored Ideal featured in the Bonhams Sale dates back to 1900. Its estimate is €230,000-280,000 (£170,000-200,000).
Introduced in 1898, the Ideal was designed to compete with models produced by the growing number of manufacturers in the turn-of-the-century car market. It offered a steel chassis and a respectable 4½ horsepower (1899-1901) single cylinder engine.
It is believed to have been sold new in the U.K. through British Benz Agents, Hewetson's Ltd. and still wears its brass supplier's plaque confirming this.
From its very earliest days the car was registered in Shropshire, UK and it was in this area of the British Isles that it was found in the 1950s. Its discoverers, Ralph Wilde and Jack Moor, subsequently restored the car and it remained in Moor's family for more than 50 years before coming into the present ownership.
Philip Kantor, Bonhams Head of European Motorcars, said: "A regular entrant and successful finisher on the London to Brighton Veteran Car Run, this definitive Patent Motorwagen is now 115 years old and going strong – a testament to the strong foundations of Mercedes-Benz engineering."
Bonhams Mercedes-Benz Sale will take place at 2.30pm on 28 March in the Mercedes-Benz Museum, Stuttgart, Germany. The Mercedes-Benz Museum charts the entire history of the world's oldest car manufacturer, with a total of 1,500 unique exhibits featured in the museum.
Read more about the Bonhams Mercedes-Benz Sale at the website (
CLICK HERE
)