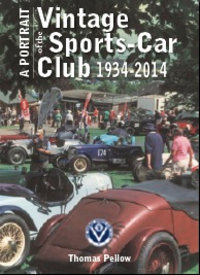 Tuesday 24 March 2015
"A Portrait of the Vintage Sports-Car Club, 1934-2014" – new Club book launched
Alongside a busy weekend at Chateau Impney, comprising the Annual Awards Dinner, AGM and Marshals' Dinner, the Club also marked the official launch of the new book about its history, "A Portrait of the Vintage Sports-Car Club, 1934-2014", written by Member, Tom Pellow.
It tells the story of how a small body of determined and energetic individuals, united by their love of fine vehicles and motorsport, built up the Club to make it the unique and buoyant organisation that it is today. The book continues the work of previous publications, such as Peter Hull's 1964 "A History of the VSCC", bringing the story up-to-date to mark the Club's 80
th
Anniversary year in 2014.
We were delighted to welcome the author as Guest of Honour for our Annual Awards Dinner, to present the prestigious collection of trophies to our winners throughout the evening, followed by a fascinating Q&A interview with celebrated motorsport Commentator, Ian Titchmarsh.
A labour of love for over two years, Tom discussed the comprehensive research and writing process to the gathered audience, comparing the work to an Impressionist's painting of the Vintage Sports-Car Club – to cover the complete detailed history of the Vintage Sports-Car Club would be almost impossible. Talk of hallowed figures from the Club's history such as Sam Clutton, Tim Carson and Hamish Moffatt were greeted with recollective smiles, whilst animated discussions as to the spelling of Vauxhall 30/98 (or should that be 30-98) drew plenty of laughs.
The book was sold throughout the weekend, with Tom graciously signing a never-ending stream of copies.
A 288-page quality hardback, with 60 photographs and 20 cartoons, "A Portrait of the Vintage Sports-Car Club" is available to buy now, priced at £35.00 (plus £5.00 P&P for UK orders), via the Club's online shop (
CLICK HERE
). Alternatively, complete and return the Order Form included in upcoming edition of the Newsletter. For overseas orders, please contact Gill Batkin at the Office on 01608 644777 (ext 5) or email
gill.batkin@vscc.co.uk
.
The Book will also be on sale at the Club Display at events throughout the year, and print run is strictly limited to 1000 copies.