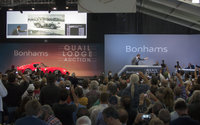 Wednesday 15 April 2015
BONHAMS WINS PRESTIGIOUS AWARD FOR RECORD BREAKING $38,115,000 1962 FERRARI 250 GTO SALE
Readers of one of Germany's leading motoring magazines, Motor Klassik, have voted Bonhams' sale of the 1962 Ferrari 250 GTO Berlinetta 'Auction Car of the Year'.
Philip Kantor, Bonhams Head of European Motorcars, said, "At $38,115,000 (€28,528,626 or £22,843,633), the spectacular sale of the 1962 Ferrari 250 GTO Berlinetta is written into the history books as the most valuable car in history to be sold at auction. We're delighted that this fantastic sale has been recognised by the readers of Motor Klassik."

The 250 GTO was sold as part of the legendary Maranello Rosso Collection of ten Ferraris, a collection that reached an astonishing combined total of $65,945,000 (€49,359,559 or £39,522,440). The Sale took place at Bonhams Quail Lodge Auction in Carmel, California, in August 2014.

In an annual poll, readers of Motor Klassik voted the sale of the 250 GTO as 'Car Auction of the Year'. Hans-Jörg Götzl, Chief Editor, Motor Klassik, said: "The overwhelming success of the Motor Klassik Award 2015 for Bonhams' Ferrari 250 GTO is actually no big surprise: The GTO is one of the largest automotive works of art of all time with an impressive history – and Bonhams auctioneer skillfully managed the bidders, as the price crept up to an incredible $38,115,000, a brand new world record price!"

Established in 1984, Motor Klassik is one of Germany's leading automotive magazines. The results of the magazine's annual awards are compiled from a readership survey.