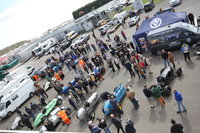 Thursday 16 April 2015
Welcoming Spectators to the Silverstone 'Spring Start' this weekend
The Vintage Sports-Car Club's celebrated Silverstone 'Spring Start' Race Meeting takes place this coming weekend, on Saturday 18 April, at the spiritual home of British motorsport. However, there is much more to this meeting than watching over 200 Pre-war and Historic cars take over 300 grid starts to battle for the spoils over the day's 11-Race programme.
Free Paddock Access
All visitors are welcome to wander freely around the Competitor Paddock, with no entry fee or pass required. This allows you to get up close to the cars which have been performing on the track and talk to owners who are only too happy to share the history and their knowledge of their machines. This is a truly rare and wonderful opportunity to immerse yourself in the sights, sounds and smells of Historic Racing.
Dedicated Pre-war Car Park
As always, the Club has organised a Pre-war Car Park this year, situated adjacent to the bustling Paddock Area. Here, you can show-off or admire your favourite Pre-war machines. Frequently a highlight of the meeting, it's worth a visit whether or not you own a Pre-war car.
Trade Village
With over 30 Trade Stands booked for the day, we welcome an eclectic mix of retailers to our Trade Village. With everything from cross-ply tyres to car-related gifts there is something on offer for most tastes.
VSCC Associates
World-renowned Auctioneers,
Bonhams
will again join us with a dedicated display within one of the garages in the Paddock, bringing with them a wonderful array of cars from their upcoming sales, which Spectators are welcome to visit.
Hagerty Classic Car Insurance
, the Club's newest Principal Associates, will be exhibiting in the Paddock next to the VSCC Club Meeting Point and Pre-war Car Park and offering advice and guidance on any insurance related queries.
St James's Place Wealth Management
representatives will also be available at the Meeting should any Members wish to speak to them.
VSCC Meeting Point & Regalia
Close to the main entrance to the Paddock, you will find the VSCC Club Meeting Point, where you can join the Club, chat with friends or speak with our Directors and Volunteer Members about VSCC Membership, Events and anything in between. We will also have a range of Regalia items available to purchase, including the Club's new history book, 'A Portrait of the Vintage Sports-Car Club, 1934-2014', written by Tom Pellow, who will be in attendance to sign copies.
In addition, we welcome William Karslake, grandson of Past President Kent Karslake (1951-53) who brings the family's recently restored 1919 Hispano-Suiza H6B Tourer following a long restoration to its original form. You can see the Hispano in the Paddock next to the VSCC Club Display all day, where a small presentation will take place during the Lunch Break.
Where to Watch
If all of this isn't enough to keep you busy, then why not watch the action from the grass banks on the inside of Copse all the way up to Becketts, whilst the Woodcote B Grandstand, or for VSCC Members who can show their Membership Cards, the BRDC Grandstand (both open 8.00am to 6.00pm).
Commentary
We are delighted to welcome an experienced team of Commentators for the day – Marcus Pye, Chris Hartley and Russell Douglas. Commentary will be broadcast over AM 1602 for those with radio.
Social Media
Help us spread the 'Vintage' word and share your comments from Silverstone live via Twitter (@VintageCarClub) and Facebook (The Vintage Sports-Car Club) using
#vsccspringstart
.
Food and Drink
As usual, Silverstone will be opening the doors of its Paddock Diner from 7.00am until 5.00pm, providing visitors with a vast choice of hot meals, sandwiches and drinks throughout the course of our meeting. For those visitors wishing to 'eat on the move' there is also a sandwich and coffee outlet in the centre of the Paddock from 7.00am to 6.00pm. Silverstone's own Paddock Shop will be open from 8.00am to 5.00pm.
Those who did not purchase in advance can buy their Tickets on the gate at £10 per person and Children Under 16 go free!
Timetable
Practice Sessions starting at 9.00am, followed by Lunch Break (12.00-1.00pm) with Racing starting at 1.00pm (all times are approximate).