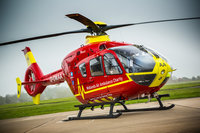 Thursday 13 August 2015
VSCC raise another fantastic total for Midlands Air Ambulance Charity at Prescott 2015
The Club's regular nominated charity for this year's Prescott Vintage Speed Hill Climb Weekend – the Midlands Air Ambulance – enjoyed another successful three days of fundraising.
With three straight days of sunshine, the Charity raised a brilliant total of £2045.04 over the course of the two events, including £600 kindly donated by the Club for use of their 'Helibounce', with parents of the children adding a further total of £170 into the buckets!
The Club thanks co-ordinator, Susie Godwin, Gloucestershire Fundraising Manager, and her team of volunteers for their hard work collecting donations and greeting visitors to their marquee by the footbridge. She says: "Thank you so much for your support of Midlands Air Ambulance Charity over the VSCC 3-day Festival. It was a pleasure to be there in the fantastic atmosphere and sunshine with our great team of volunteers who did work very hard with collecting donations."
With no Government or Lottery funding, Midlands Air Ambulance Charity does need in excess of £6.5 million to keep their three airbases operational in six counties, including Gloucestershire. Each mission costs in the region of £2,500, and an average of ten missions takes place every day, 365 days a year.
Saving Lives by Saving Time
Visit
www.midlandsairambulance.com
for more information.