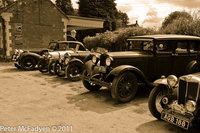 Friday 22 February 2013
Overseas Tour to Burgundy headlines the Club's 2013 Social Calendar
Following the success of our Irish and Brittany Tours over the last two years, the Club are delighted to once again be working with Club Member Steve Brown of ERL to offer our members another Overseas Touring opportunity, this year to North Burgundy in September.
This year's event takes place 16 – 26 September 2013 and comprises a 10-Night Tour to the Wine Region around Vézelay, including:
Four nights at a mill hotel based in the wine region
Overnight ferry to St Malo from Portsmouth with the excellent buffet dinner option
Mileages between 80 and 120 on the travel days
Stay in individual country 4 star hotels with good parking en route to and from Burgundy
A night in Chartres on the way home within walking distance of the Cathedral
Join other VSCC members and meander the back roads of France – what the cars were built for
Cost is from £1,689 per person, sharing car and accommodation.
Entries are already being received and the event will be on a first-come-first-served basis so don't delay.
For full tour details and further information, please contact James Taylor in the Competition Department on 01608 644777 Ext 4 or email
james.taylor@vscc.co.uk
for a detailed brochure and booking form.
The Burgundy Tour headlines another stellar line-up of Touring Assemblies on offer with the VSCC in 2013, including:
Scottish Borders Tour, Selkirk, Scottish Borders, Saturday 8 June
Viewfinder Tour, Bucknell, Shropshire, Saturday 29 June
Norfolk Tour, East Carleton, Norfolk, Saturday 27 July
Oxford Concours & Lunch, Mansfield Collge, Oxford, Sunday 25 July
VSCC Members may also like to know about additional social events organised by Club Members:
Boulogne Bicycle Rally, Saturday 25 May
VSCC Young Persons' French Trip, 24 – 31 August
Further information and entry details for these events will be available from the Events pages
HERE
soon.
Any questions regarding the Club's social events, please contact James Taylor at the above details.