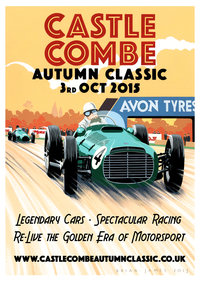 Tuesday 29 September 2015
VSCC at the Castle Combe Autumn Classic - this weekend!
The VSCC are again delighted to be involved with the popular Castle Combe Autumn Classic this Saturday 3 October, with over 25 cars taking part in the VSCC Race for Pre-war Sports-Cars, the opening race of an exciting programme of Historic racing.
The day will also include races for Pre-1966 Historic Touring Cars, F3 (500s), 1950s Sports Cars, Pre-1966 Jaguars, Austin Healeys, Formula Juniors and Historic Aston Martins.
This year will mark the 4
th
running of the event, nicknamed the 'Mini Revival of the South West', and will also include a number of other Classic Car Club Displays, Parades and Demonstrations; a highlight of the afternoon will be demonstration laps by a select group of Historic Racing Cars led by the National Motor Museum's ex-Graham Hill Lotus Type 49, and BRM V16 as we mark the 60
th
Anniversary of the legendary car's last race, plus a celebration of the last Formula One Race in Wiltshire and a display in tribute to 1950s Le Mans star Ivor Bueb.
Qualifying starts at 8.30am and racing from 12.55pm
Visit the event's dedicated website for more information
www.castlecombeautumnclassic.co.uk
Buy your Autumn Classic tickets on the day or online via Castle Combe (CLICK HERE).




VSCC Pre-war Car Spectator Parking
The VSCC have been allocated a dedicated area in the
'Club Village'
by Westway Corner, where we hope to attract a number of Pre-war Cars to display alongside a number of other Car Clubs.
This will be located to the western side of the circuit between Camp Corner and Westway Corner (up to Bobbies Chicane), with access to the venue via the Camp Gate (Red), offering easy access to the Competitor Paddock on the day.
If you would like to park your Pre-war Car in the VSCC Display Area, a limited number of free Car Passes are available. Places are limited and available on a first-come-first-served basis (you will still need to buy your own Ticket(s) for the event).
Please contact Gill Batkin on 01608 644777 ext 5 or email
gill.batkin@vscc.co.uk
to claim your pass.
The Club thanks local Club Member, Paul Weaver and family for their assistance in managing the Club's Spectator Display Area on the day.