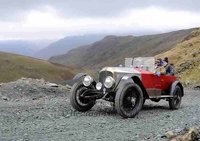 Friday 06 November 2015
The VSCC is Cumbria-bound Lakeland Trial this weekend
The Club's Winter Trials Season continues in earnest this weekend as yet another capacity entry of 100 Pre-war cars descends on Cumbria for the annual Lakeland Trial, again based at the warm surroundings of The Wheatsheaf Inn in Low Lorton tomorrow, Saturday 7 November.

A bumper day of 13 sections awaits, with the famous 'Drumhouse' section at Honister Slate Mine the undoubted highlight for many – the long, steep quarry road leading up the side of 2,126ft Fleetwith Pike is often regarded the ultimate test of our Pre-war machinery, with its tortuous hairpin bends and rocky terrain.
Spectators are welcome to come and watch the action at 'Drumhouse' at the Honister Slate Mine from 9.00am to 3.30pm, where there will be plenty of public parking for a small fee to the venue and catering facilities on site whilst there is also access to a couple of the Whinlatter Forest sections this year.
There are a number of significant changes to this year's event, to comply with the restrictions set out by the Forestry Commission and Motor Sports Association. To that end, we have restricted Spectator access to those three sections named with no further access at any other locations on the day, with the required safety management in place at those venues open for access.
The organising team have worked tirelessly to ensure our Lakeland Trial goes ahead this year so please support us and help maintain our good relationship with the local community and Forestry so the future of the event is assured!
Download the Spectator Information, which contains full details of event times, locations of Spectator sections and Entry List for the event by clicking on the link below.
CLICK HERE TO DOWNLOAD THE LAKELAND TRIAL SPECTATOR INFORMATION