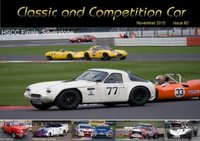 Wednesday 11 November 2015
Classic and Competition Car – November 2015
The November Issue of Classic & Competition Car is now available to download.
This issue is full of action as the Circuit Racing year in the UK starts to wind down for the Winter break. We have British Touring Cars from Silverstone and GT action from GT Cup at Oulton Park and Donington Park and Britcar from Silverstone. The Historic Sports Car Club (HSCC) Finals from Silverstone produced two new Champions along with thrills and spills on track. Low cost motorsport can often provide the most exciting action and the 750 Motor Club has action from Donington Park and the Birkett Relay at Silverstone.
The Sywell Classic Pistons and Props had action on the ground and in the air with smoke trails from both! Top line Rallying returned to Donington Park with the Dukeries Rally giving the large crowd plenty to see and enjoy as the large entry tackled different stage layouts around the Grand Prix Circuit. For something completely different we have the Sahara Challenge which pitted Classic Rally Cars against the sands of the Sahara Desert.
Off track, we have Eastern Bloc cars on display outside Coventry Transport Museum, millions of pounds worth of Supercars on the streets of Wilmslow in Cheshire and Classic and Vintage Cars on display canal side in Stourbridge in the West Midlands.
Plus all our usual news and features. Visit
www.classicandcompetitioncar.com